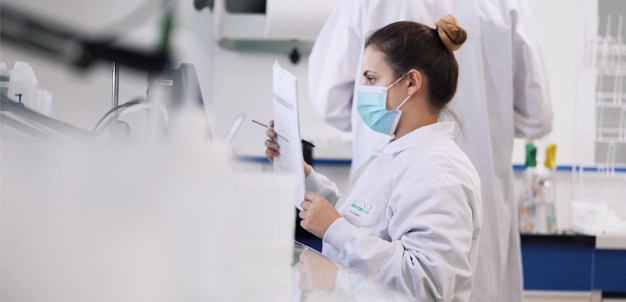 The natural home and personal care laboratory
The Alvend laboratory, founded in 1995, is a French family-owned SME situated in Somloire in the Anjou region. A pioneer in everyday natural healthy living, it designs, formulates and produces organic cosmetics and natural home and personal care products. The production facility complies with the best practices for cosmetics production and has ISO 22716 certification.
---
Formulation
The Alvend Research and Development department is made up of five experts. While anyone can create cosmetics, a knowledge of chemistry and specific expertise in combining ingredients make a big difference. Blending ingredients to create a real synergy between them and combining effectiveness and pleasure of use is an art form – one which the laboratory has now mastered for several years. This can be seen in the renowned quality of its Coslys, Étamine du Lys and PURE brands.
The research and development department designs formulas by drawing on the specifications of strict natural and organic labels and guidelines such as COSMOS and Ecocert's Ecodetergent.
Quality and regulations
The expertise of the regulatory affairs department is vital to ensuring the safety of the products brought to market. Indeed, European and international regulations, mandatory labelling, controversial ingredients, and organic and natural specifications must be constantly monitored in order to implement inspection and quality assurance procedures.
In addition, the skill sets of the regulatory affairs and quality control departments make it possible to obtain products that are safe to use and effective. The products are fully traceable since the laboratory has completely overseen the production process for more than 30 years.
Production
There are two production hubs within the Alvend laboratory. Cosmetics and detergents are manufactured in two separate areas. The industrial facilities are therefore adapted to the specific needs of these two sectors. The cosmetics portion consists of a clean room with eight vats ranging from 50 kg to 3 tonnes, while the detergent component has four vats of 3.5 to 10 tonnes.
Packaging
In 2020, Alvend's packaging area was extended and now consists of nine separate lines. This dedicated facility packs all types of containers: bottles, tubes, jars, bags-in-boxes, and bulk, from 10 mL and up. Alvend's product design criteria include eco-designed packaging made from recycled and recyclable materials or that can be reused. The laboratory packaged more than 8 million units in 2021.